Artsmark is the only creative quality standard for schools and education settings, accredited by Arts Council England. Artsmark supports schools to develop and celebrate their commitment to arts and cultural education for all children and young people.
Day to Create is an Artsmark community day on 6 July 2022 for schools and alternative education settings, produced by Artsmark. Day to Create will be an opportunity for children and young people's ideas, imagination and creativity to flourish through a whole day of creative activities.
Find out more about Day to Create
To support schools with their Day to Create, we've partnered up with Little Inventors to bring you the Dare to Invent challenge. The aim of Little Inventors is to allow pupils to express the far reaches of their imagination. Together, we want to inspire pupils to think up and draw original, ingenious, funny, fantastical or perfectly practical invention ideas. There are no limits!
Enjoy using our activities to support children and young people to express themselves and come up with some great invention ideas in the process.
Click here to join Little Inventors Day to Create CPD session to learn more details about the Dare to Invent challenge.
The ultimate goal? Create an invention. Students can draw and submit their own inventions to appear in our online gallery. We'll also support you to help bring your pupils' ideas to life through drawing, prototyping and storytelling.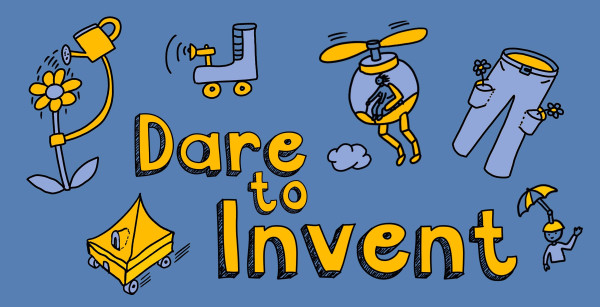 Do you dare to invent? We're challenging you to come up with invention ideas that are useful, ingenious or just plain fun!
Find out more!